If you have any good ideas that you don't mind sharing with others, then drop me a line and I'll publish them here!
How to get the 'Interior Designer' look
If you are one of these ever increasing fans of the "Cath Kidston" fabrics or other designer patterns and are desperately keen on knowing how to obtain and utilise such designs simply take your chosen designer cotton fabric and place it through a laminater. This gives instant rigidity to the fabric and a lovely gloss veneer. It may then be cut and fitted as wallpaper or flooring!
Fimo Flower and Leaf slices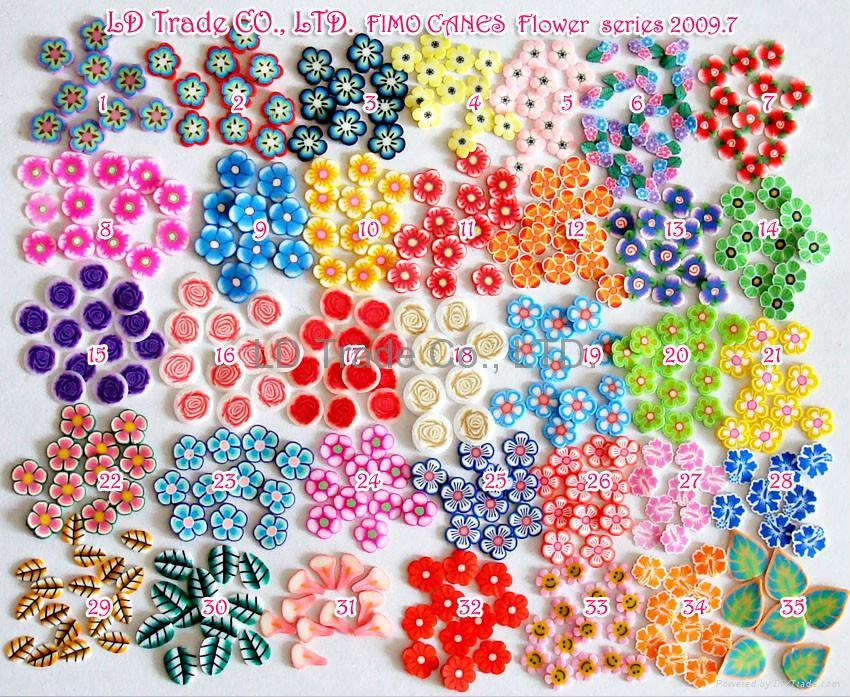 It seems there are more and more sellers of decorated Sylvaninan buildings these days and now more than ever an influx of fimo nail art. These small leaves and flowers can add a pretty dimention to your building if both designed and secured correctly.
Building Exterior Techniques
If you want to personalise your building to your own specific tastes when adding ivy or other foliage then try using Sharpie pens or any other permanent markers to add your own design. These can then be enhanced further by adding flower stickers or other floral embellishments. Please see work by 'lolly_lakeland' and 'thebeetlethatdances'.
Paint
A lot of people may not feel confident enough to have a go at wallpapering or feel that dolls house wallpaper may prove too expensive. Therefore, it is a lot easier and cheaper to paint your houses as a good alternative into getting some colour into your buildings. The best type of paint to use is acrylic, this should be ideally mixed with pva glue to prevent chipping and finally sealed with either a matt or gloss glaze. Please see work by 'thebeetlethatdances'.
Sylvanian Craft Books
Pictured below is the first of ten Japanese craft books for Sylvanian Families which were released in 1998.
These fantastic craft books offer many projects including dress patterns, fimo food, house decoration and display ideas
.
Although written in Japanese these books are filled with full-color photos and easy-to-follow pictorial instructions/patterns.
Playmobil
I've been quite amused to see more people now using Playmobil furniture items alongside Sylvanian. Some Playmobil furniture sits absolutely lovely alongside Sylvanian furniture and depending on which you buy it can be more ornate. However, for those still not quite familiar with the Playmobil sizes, please be aware that items such as chairs, armchairs, settees and beds are too small for your Sylvanian characters. Always remember to have fun and mix and match!
Sylvanian Restoration
It's inevitable that over time our Sylvanians will become to look a little worn and tired (especially if played with regularly by little hands). One of the most common issues is with the black coloured characters as this colour particularly tends to wear quite quickly. The first two examples below shows a pre-loved Kennilworth dog in need of some TLC:-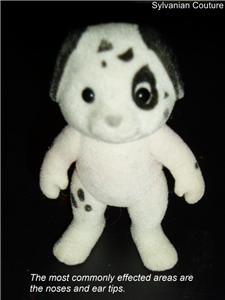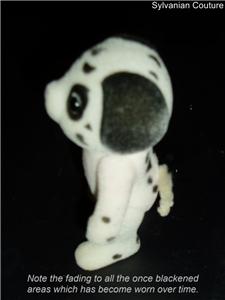 The best method of cleaning your character is to firstly remove all trapped dust and lint with a clean cheap toothbrush. Simply brush the dry brush over your character, additionally a little cellotape wrapped around your finger is good for removing stubborn lint. Secondly, using a black permanent marker carefully begin to recolour the faded areas. (Please note that you need a steady hand for this so please take your time). The following two examples are of the great results that can be achieved with a little time and effort!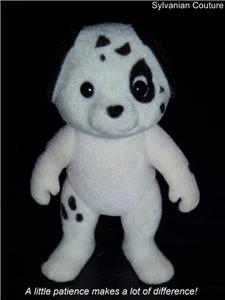 Re-ment
Re-ment is a Japanese product. They make just the most intricately designed and ornate shaped miniature food items, tea sets and much more. They are certainly a special way to add detail to your Sylvanian collection. But please be aware that some sets are larger than others, check before you buy. The above pictured re-ment sets sit perfectly alongside Sylvanians.
Sylvanian Size?
There are lots of lovely accessories out there to compliment your Sylvanian house. Dollhouse accessories can offer a vast array of finishing touches. Sylvanian Familes are scaled at approx.
1/16th. Most dollshouse furniture is at a scale of 1/12th, so tends to be too big. However, items like tea sets, plates, food items, cushions, rugs etc, are quite usable.

Building Exteriors
I have had so many people write in and ask me about external decorating that I thought I'd better do a Top Tip feature on it.
It's really nice to see more and more people selling buildings that have also been given external makeovers too. There is no hard and fast rule, anything goes. You can spend just a small amount adding feature to your exterior or splash out and be more opulent. Again, as before, try your local craft seller or craft market stall for embellishments, such as braids, flowers and further scrap book type paraphernalia. Certain sticker sets and transfers can also be used. Don't forget, Ebay houses alot of suitable items too.
Fimo Food
There are so many food items to be made using Fimo clay, from fruit & veg. to bread & mouth watering cakes. I recommend that if you are a beginner to only buy one of those small Fimo Sets available at most craft suppliers or just the 3 primary colours (this way you can mix the colours together to make most desired colours needed) plus white and beige. For baking your fimo just simply follow the instructions on the back of the packet. Once baked, you can add a clear varnish to give a nice sheen. Below is a link for making a basic chocolate cake. Remember - have fun!
Carpeting
Carpeting your house definitely gives it a luxury look. Follow the method below by first making a template, then apply the pattern to your desired floor covering. Again Dolls House carpeting can be expensive, so try adhesive velor, felt, craft foam or a good quality suitable fabric.
Wallpapering
A lot of people get scared at the thought of wallpapering a house. To prevent making mistakes simply make a template out of plain paper including window apertures where applicable. Double check that it fits the wall perfectly, then trace around your template onto your desired wallpaper. Once you have cut out your wallpaper then you can fit it to your wall by either using a glue stick (which works the best), double sided tape or pva. There are lots of beautiful Dolls House wallpapers out there, but they can be expensive, try using scrapbook backing papers or other small designed crafting paper. Also, the following link offers a vast array of free printables - go on give it a try!
Blinds
An alternative window dressing is a stylish window blind. Measure your window width and cut a square of fabric to that measurement. Run a line of fabric glue along the top of the fabric and adhere to a piece of dowel, then slowly roll the fabric down to half way and use another line of glue to fix into position. Leave it to dry. Either leave the raw edge straight and decorate with lace, or give it a scalloped edge (best to make a card template for this) and finish by attaching picot trim for a tasseled effect! Adding bows or other embellishments will further enhance the finished look. As well as craft dowel, toothpicks or lollipop sticks can also be used.
Nets
Another basic start to help in making your house look homely is by adding lace netting to your windows. Use short ornate lace for fancy pelmets or deeper lace for a fuller length net. Measure and cut the required length and fix to your window with either double sided tape or a small amount of pva glue. If you don't wish your nets to be permanent then try double sided stick-on Velcro or small amount of white tac. Experiment by dressing the nets further by adding other embellishments eg. bows and flowers etc.
Borders
An inspired tip from Handmade Heaven UK's early work. As a very basic start to decorating your own house, try using border stickers that can be easily purchased from your local craft seller. Place the border stickers around the walls at half or 3/4 height, and there you have it - simple! Additionally, if you are feeling more confident then try running the borders around the windows. Good luck!